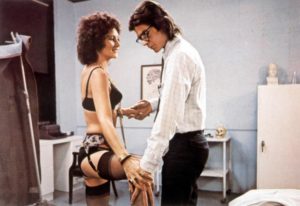 The Golden Age of Porn began rather late. The crude and simple films from the Early Porn Cinema still went on, while usual films had already evolved to elaborated movies and reached the Golden Age of Hollywood. And the impulse to evolve didn't come from within. By the mid 60s Hollywood went into crisis. Right before the "New Hollywood" movement, a genre of B-Movies became really popular. It was the so called exploitation cinema, which strongly inspired Quentin Tarantino. A subgenre of it was the sexploitation cinema. It was about breaking taboos but it still wasn't showing explicit sex. The more people wanted, the more the boundaries were pushed. This was the time when pornographic feature films made it into mainstream cinemas. They were still rather cheaply produced, compared to major Hollywood productions, but still much better than porn had ever been before (and maybe still).
Famous examples are "Deep Throat" or "Behind the Green Door".
It was a time when it seemed not only possible but also logical that the artificial line between cinema and porn would get more and more blurry and finally vanish. But it all crashed when home-recording got so affordable, resulting in a lack of effort in the industry. The time of Amateur Porn was about to crush all ambitions.