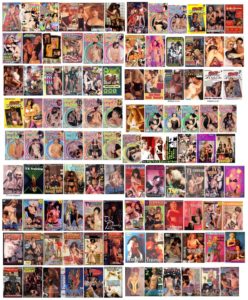 The Golden Age of Porn found its end somewhere around the beginning of the 80s with the rise of amateur porn. The standards of film production changed constantly. It was usually the porn industry that picked up new technologies first. Many of them made it cheaper to produce and distribute. It began with 8mm-film and when video standards like VHS came out, porn had finally made it into our homes. Before VHS, the place to see porn was sex shop booths and porn cinemas. Producers picked up the new technology which made it cheaper than before to produce and distribute without a lab having to process the film material. It was at this time that the majority of people watched porn at home.
They also started to use the aesthetics of homemovies and produced Amateur Porn. This wasn't actually porn made by regular people, like the couple next door. It was mostly the professional industry producing amateurish looking films to give the audience what they wanted: a couple next door feel.
That kind of aesthetic would also survive the oncoming process of digitalization. It not only made it cheaper to produce, but also to distribute directly to the consumer without needing an intermediary. By the end of the 90s, the age of Netporn began.